Be sure to visit our local attractions!
M-149
Manistique, MI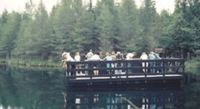 Michigan's largest spring, approx. 40 feet deep and two hundred feet across with over 16,000 gallons a minute flowing into the spring with a constant temperature of 45 degrees Fahrenheit. There is a self-propelled raft which will take you across the spring to be able to view the crystal clear waters and large trout. This state park has a picnic area, toilet facilities & a gift shop.
Arrowhead Road off of County Road 441
Manistique, MI
Rev. Frederic Baraga, a young Catholic missionary established and blessed his first church near this site on May 15, 1832. The original chapel was built by the local Chippewas and was replaced by a larger chapel in 1833. In the early 1880's after much research, the Indian Lake mission was recreated and has been listed on the State Register of Historic Sites.
M-183
Fayette, MI

This is a well preserved "ghost town" located on a beautiful Lake Michigan harbor with large cliffs, a modern visitor center, 20 historic buildings. Open Mid-May through Mid-October.
8970W County Road 442
Manistique, MI
(906) 341-2355
Located on Indian Lake, the fourth largest inland lake in the U.P. with an area of 8400 acres. The lake is 6 miles long, 3 miles wide, has a maximum depth of 18 feet with about 90% of the lake less than 15 feet deep. It is best for smaller watercraft and has perch, walleye, northern pike, muskellunge, bass, bluegill, sturgeon & brown trout fishing available. The park is composed on two units which are 3 miles apart. The park on the south shore has 145 campsites with modern facilities. The West shore has 72 semi-modern sites with electricity and rustic vault toilets – no showers. There are 2 barrier free mini-cabins available for rent.
Manistique Light & Boardwalk
Off US 2 Highway
Manistique, MI
This light was built in 1916 and is located at the harbor entrance to the Manistique River and will soon be listed in the National Register of Historic Places. The boardwalk extends over 2 miles along the Lake Michigan shoreline and is wheelchair accessible.
Schoolcraft County Historical Park
Deer Street
Manistique, MI
The Schoolcraft County Historical Park features a museum that is open during the summer months and the historic 200 foot tall brick water tower. The octagonal tower was built in 1922 and is listed on the National & State Historic Registers. The Tower, park & museum are maintained by the Schoolcraft County Historical Society and are only a short stroll from the newly restored Siphon Bridge.
1674 Refuge Entrance Road (M-77)
Seney, MI
(906) 586-9851

Open year around. Natural habitats with over 250 species of wildlife. You can tour by car on the Marshland Wildlife Drive, which is a 7 mile self-guided auto tour with observation decks or the refuge offers hiking, bicycling, canoeing and cross country skiing. The Visitor Center is open daily from May 15th through October 15th from 9:00 a.m. to 5:00 p.m. There are exhibits, an area for children, bookstore and slide show.
672N West Gulliver Lake Road
Gulliver, MI
(906) 283-3183

Open Memorial Day through Mid-October seven days a week. 10:00 am to 6:00 pm.
DNR Access Site on US 2 Highway
Thompson, MI
The Village of Thompson was once a bustling lumber town located on the shores of Lake Michigan. The docks where the schooners were once loaded with lumber are long gone leaving only the pilings and a stone foundation. The famous schooner, Rouse Simmons, better known as the Christmas Tree Ship sailed out of the Thompson Harbor on November 22, 1912 on its annual run loaded down with trees from Schoolcraft County heading for Chicago. The ship and crew were lost off Two Rivers, Wisconsin. Thompson Township has applied for a State Historical Marker to be placed at this site. One side of this marker will be dedicated to the history of Thompson and the opposite side will tell the story of the Rouse Simmons.
State Highway M 149
Thompson, MI
(906) 341-5587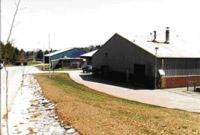 Open Daily 7:30 a.m. to 3:30 p.m. No admission fee. The Thompson State Fish Hatchery was established in 1922 for the production and rearing of cold and cool water fish. Brown & Rainbow Trout, Steelhead, Chinook, Salmon, Walleye and Northern Muskellunge are raised and reared in indoor and outdoor facilities. Completely renovated in 1977, this state of the art facility and its interpretive center is a great educational opportunity.